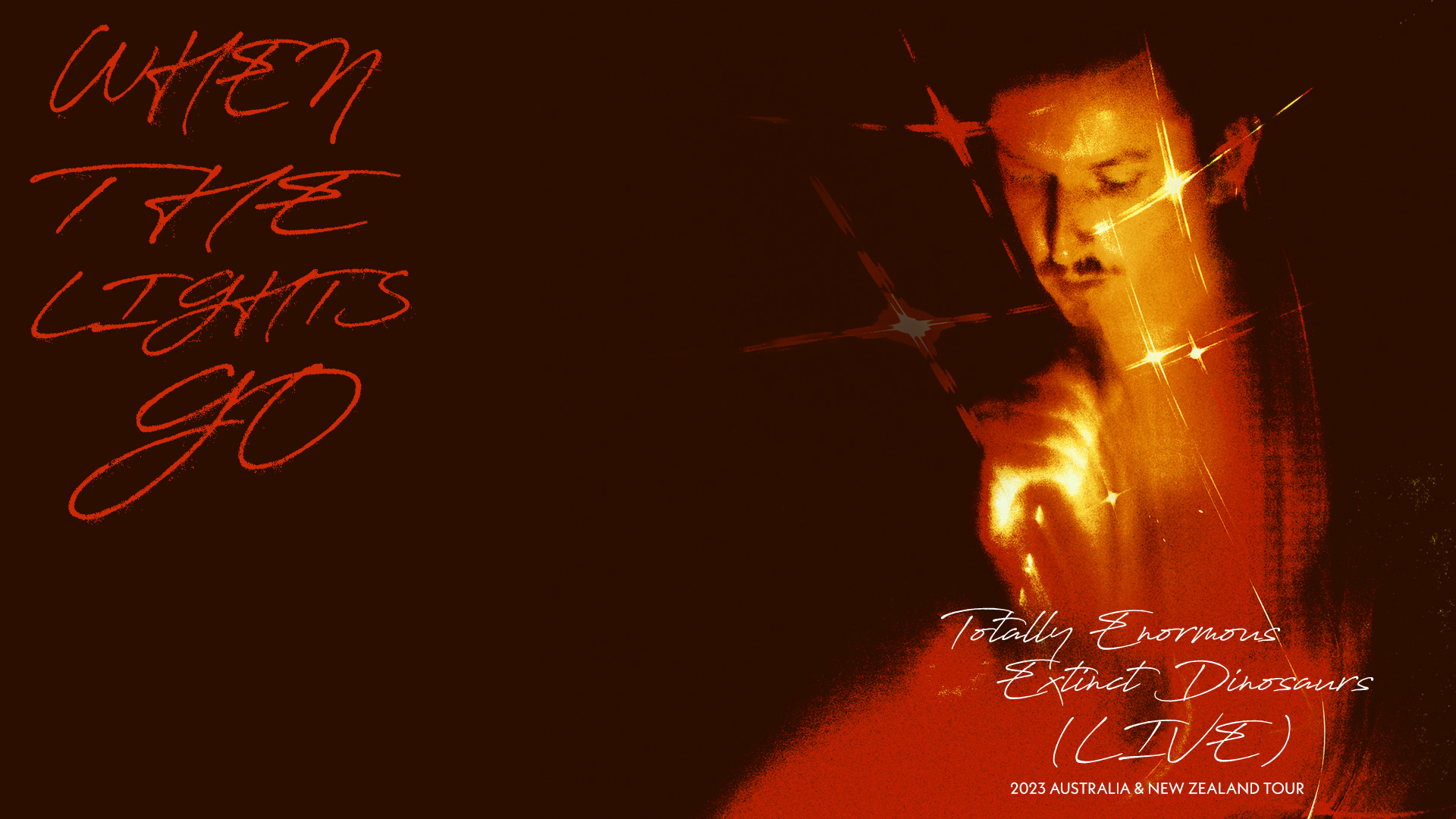 Totally Enormous Extinct DinosaursAustralia and New Zealand Tour 2023
I OH YOU and Frontier Touring are delighted to announce the return of British born, LA based, Grammy nominated, electronic DJ, artist, Totally Enormous Extinct Dinosaurs aka real name Orlando Higginbottom on his When The Lights Go Australia & New Zealand Live Tour for May 2023.
Kicking off in New Zealand, the When The Lights Go tour will play San Fran, Wellington on Friday 5 May before Powerstation, Auckland on Saturday 6 May. The tour then heads to Australia playing The Triffid, Brisbane on Tuesday 9 May, then onto 170 Russell, Melbourne on Thursday 11 May, Manning Bar, Sydney on Friday 12 May before a final show at The Rosemount Hotel, Perth on Saturday 13 May. These are Totally Enormous Extinct Dinosaurs' first Australian shows in over 10 years and the first time ever playing New Zealand!
---
Additional transaction fees and credit/debit card processing fees may apply
---
Age restrictions
18+
---
Ticket limits
Per purchaser, per show
Tickets
Check back closer to the show
Line up

Totally Enormous Extinct Dinosaurs
---
Additional transaction fees and credit/debit card processing fees may apply
---
Age restrictions
18+
---
Ticket limits
Per purchaser, per show
Tickets
Check back closer to the show
Line up

Totally Enormous Extinct Dinosaurs
The Triffid
Brisbane
Joined by 1tbsp
---
Additional transaction fees and credit/debit card processing fees may apply
---
Age restrictions
18+
---
Ticket limits
Per purchaser, per show
Tickets
Check back closer to the show
Line up

Totally Enormous Extinct Dinosaurs

1tbsp
170 Russell
Melbourne
Joined by LEX
---
Additional transaction fees and credit/debit card processing fees may apply
---
Age restrictions
18+
---
Ticket limits
Per purchaser, per show
Tickets
Check back closer to the show
Line up

Totally Enormous Extinct Dinosaurs

LEX
Manning Bar
Sydney
Joined by BRIA
---
Additional transaction fees and credit/debit card processing fees may apply
---
Age restrictions
18+
---
Ticket limits
Per purchaser, per show
Tickets
Check back closer to the show
Manning Bar
Level 2, Manning House, Manning Road (University of Sydney) , Sydney

Line up

Totally Enormous Extinct Dinosaurs

BRIA
Rosemount Hotel
Perth
Joined by Montana
---
Additional transaction fees and credit/debit card processing fees may apply
---
Age restrictions
18+
---
Ticket limits
Per purchaser, per show
Tickets
Check back closer to the show
Line up

Totally Enormous Extinct Dinosaurs

Montana